Ferm's Fast Finder's and Fast Tabs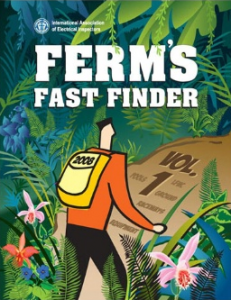 Ferm's Fast Finder's…even the name brings thoughts of stability, speed and efficiency. Historically, Ferm's Fast Finder has been the leading guide, with its comprehensive directions, advice and information, to the National Electrical Code.Its comprehensive cross-reference index has been meticulously updated to NEC-2008. Each entry, reference and source have been examined for precise detail and ease of use. New navigational guides are built into each page, both as headers and beside each entry, to facilitate locating information quickly.

Volume 1 contains an alphabetized index of important words and phrases in the 2008 NEC, including detailed crisscross references, gives many avenues of approach to each subject, and includes a special section that cross-references the International Residential Code (IRC) with the National Electrical Code. Users of the NEC will discover how parallel these codes can run.

Volume 2 has nearly 200 extensive and practical rules of thumb, formulas, illustrations, tables, charts and diagrams for the reader's convenience.

These publications are the perfect companions to the NFPA 70: National Electrical Code 2008.
| | |
| --- | --- |
| Also Includes | Fast Tabs for Quick Reference |
| Publisher | International Association of Electrical Inspectors (IAEI) |
| Volume | 1 & 2 |
| Publication Year | 2008 |
Applies to these State Exams: